About Us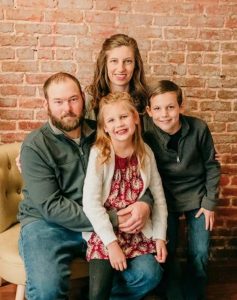 Hello friends and future customers! My name is Eric Canady, and I founded Elite Grounds Care LLC in 2022. Myself, my wife and our 3 children are proud to call Seymour our home. We live here, we work here, we love here, and we have fun here! I have been blessed with the opportunity to learn an extremely wide range of skilled trades. Some say that working is my hobby, but I believe it is fueled by a love for learning, a passion for excellence, a caring heart, and an indestructible drive for continual improvement.
This year I have taken the business to full-time and am able to serve many more clients. I would be honored to have the opportunity to earn your business. We want to be your last lawn and landscape service provider! Although there are plenty of companies to choose from, there are just as many things that set us apart from the rest!
We are committed to staying small. This allows us to provide the highest level of personal service along with the highest quality work. Unfortunately, this also means that we cannot take on an unlimited number of customers. We are here to provide the best service, not the most.
We offer a full line of services. Sometimes the list of things that need done around your property is endless. Our website shouldn't be! If you don't see it, please feel free to ask if it's something we can do!
I have years and years of experience in this industry. I owned a lawn care business in the early 2000's and worked for and with several other companies through the years.
We have a great fleet of well-maintained professional equipment that is reliable and gives the best results, so we can get the job done on time and make your property look its best!
We offer a wide range of billing and payment options to fit your budget and needs.
We do service both residential and commercial accounts. Commercial accounts demand priority and fast response in the event of snow or ice. Residential accounts often prefer to wait until the end of the storm. We will only service a limited number of commercial snow removal accounts in order to maintain our reputation of prompt, reliable, excellent service.
Thank you for your time, I look forward to hearing from you. Please don't procrastinate, we'd hate for our schedule to fill up without you on it!